An EOS account has keys associated with it. Each key has a certain permission.
Example of key permissions can be generated to buy/sell RAM but not to transfer coins or tokens. This means that if you give the private key to someone else they would only be able to buy/sell RAM but not transfer any of your coins or tokens.
The most common keys generated for EOS accounts are Owner and Active Keys
Definitions

Owner Key: The Owner permission is the "root access" to your EOS account and symbolises ownership of the account. Only a few transactions requires this authority. Access to the private key for the Owner permission will allow you do perform any function on your account. It is generally suggested that you keep your Owner Key in cold storage and not shared with anyone. If you Owner Key is exposed then your account may be compromised.
Active Key: Active permission is more restricted. It is used for transferring funds, voting for block producers and making other high-level account changes. Active keys can not be used to change the Owner private keys. If your Active key has been compromised you can only change it using your Owner key.
Reset EOS Keys
Step 1. Select Owner Key
To change the keys associated with your account you must ensure that you have selected the @Owner Key within your Scatter Identity section. For more details around this read our Attaching Scatter Tutorial. Most accounts have the same Active and Owner keys at this stage but its good practise to ensure you select the owner key for this process.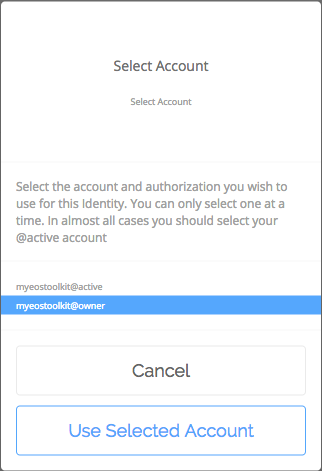 Confirm your new identity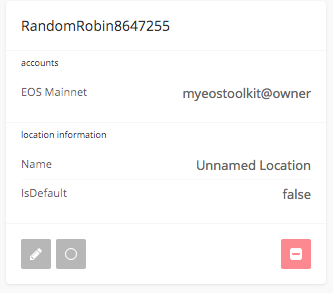 Step 2. Go to eostoolkit.io
Attach the scatter identity you created with the @Owner Key in the top left corner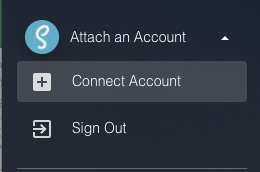 Select the correct identity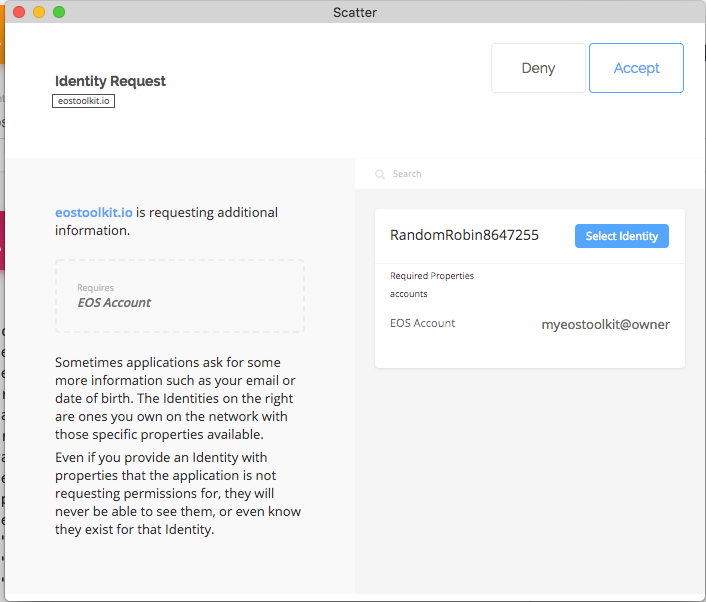 Step 3: Go to permissions tools
Select the Manage Account drop down and go to Manage Permissions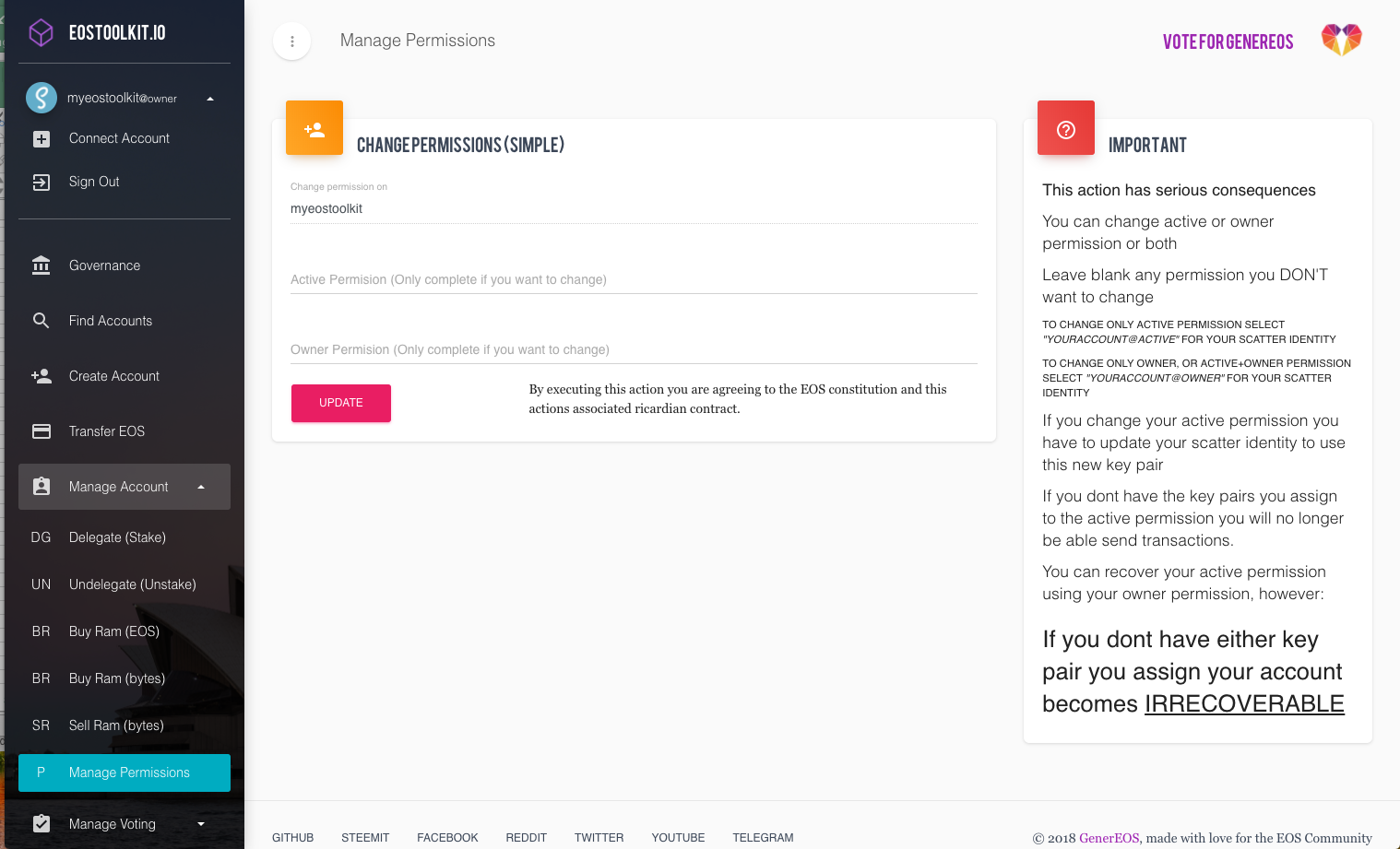 Step 4: Create a new key pair
You can use an offline key generator, an existing safe keypair that you already have, or follow these instructions to use Scatter.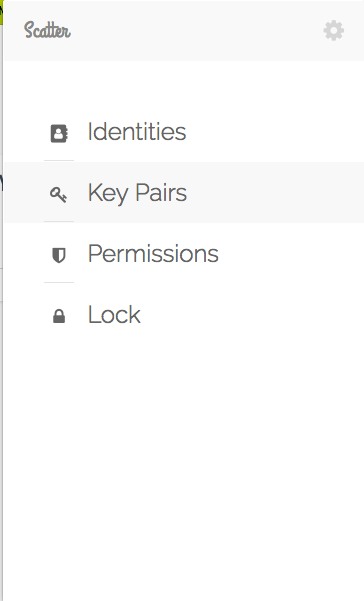 Create new key:
Provide a name
click Generate Key Pair
immediately click Copy
and then click Save.
Immediately paste your new keypair and store it securely:
Engraved titanium
Laminated paper in a fireproof safe
Ledger/trezor once supported
Keepass
Once a keypair is saved into Scatter it CAN NOT be viewed again as a part of Scatters Security features.


Step 5: Update the keys!
Enter your new public key (or keys) into the appropriate fields on the eostoolkit.io and click Update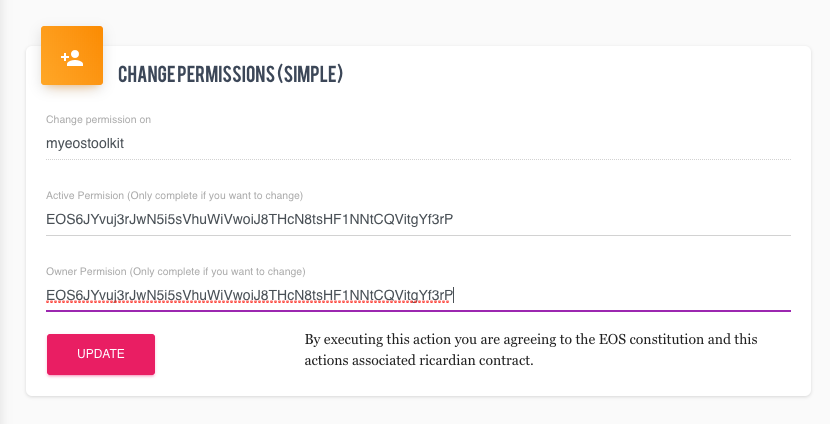 A pop up will appear... Scatter is taking a moment to sign the transaction and download the Ricardian contracts.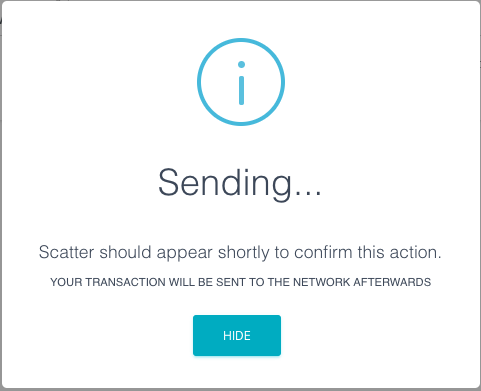 Scatter will appear for you to validate the transaction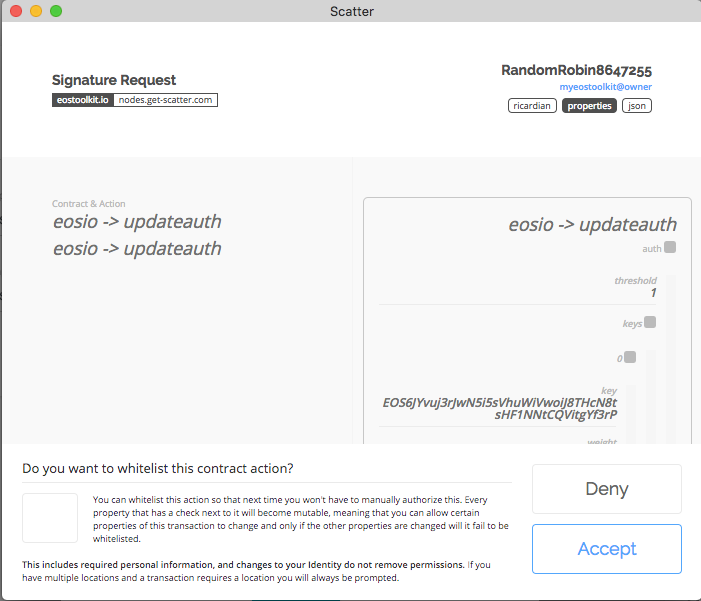 SCROLL AND CONFIRM THAT THE KEYS ARE RIGHT
Active key: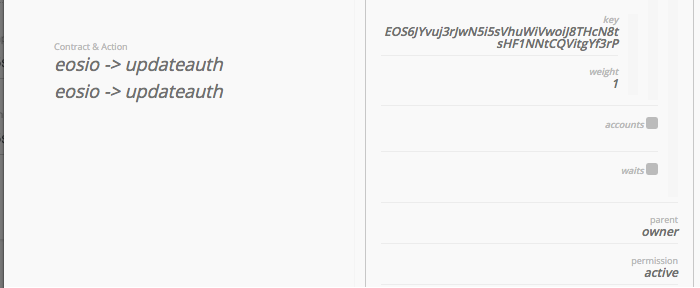 Owner Key: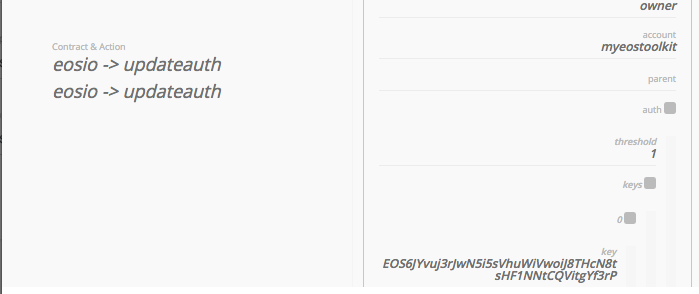 Click Accept.
Note: If you get an error that there is not enough resources for this transaction, you need to stake or delegate more NET and CPU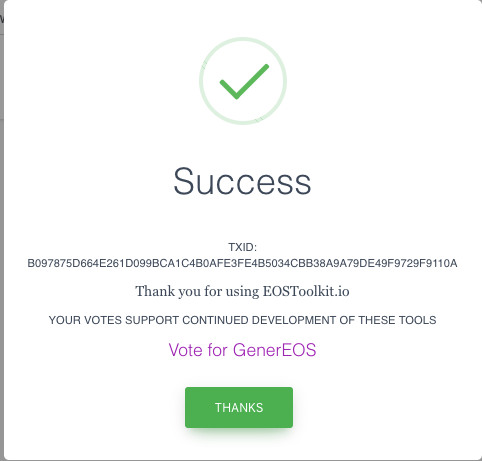 Step 6: Let's confirm!
You can take the TX Id from the success message and put it into a tracker such as bloks.io
You can also lookup your account again. You must click Search again if your name is still there then click JSON file and check the keys as shown below.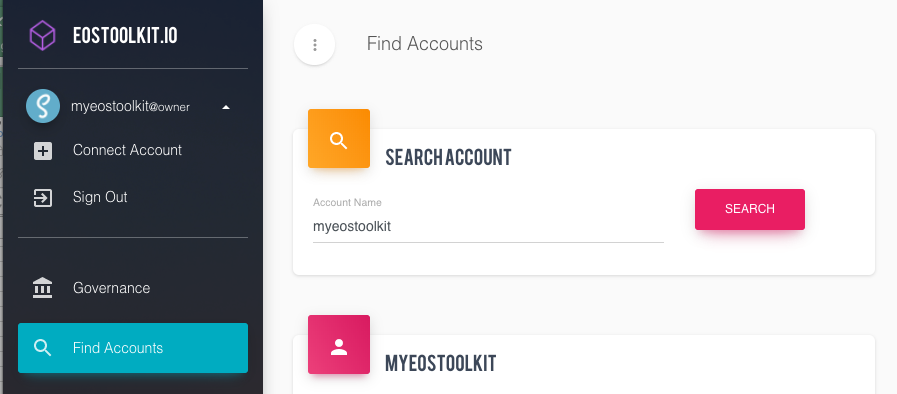 Verify that the keys have changed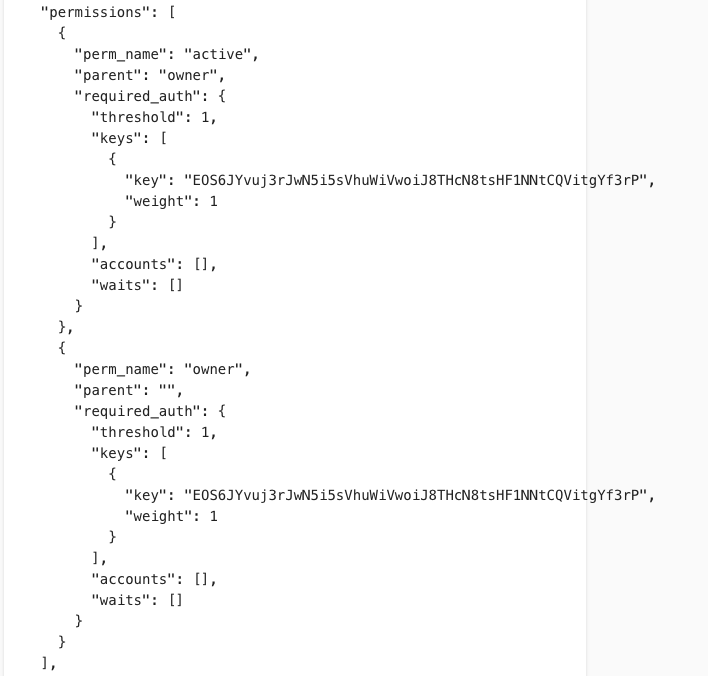 Success!
Step 7: Update Scatter
Lets go to our identities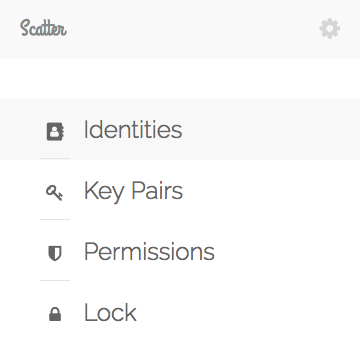 Click the Pencil button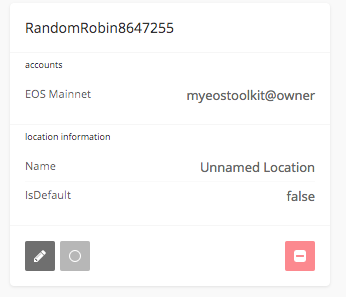 Click your EOS account name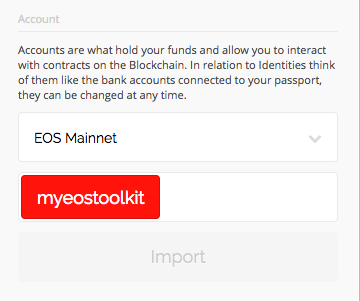 Click Yes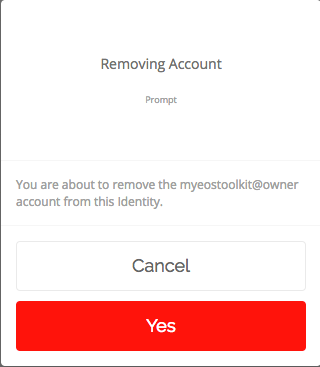 Now select your new key from the dropdown and click Import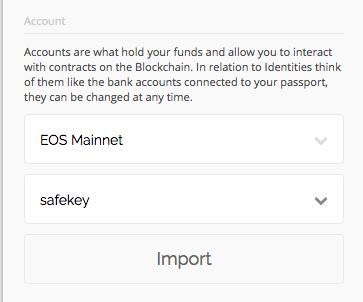 Select youraccount@active for future transactions.
Don't forget to click Save once your done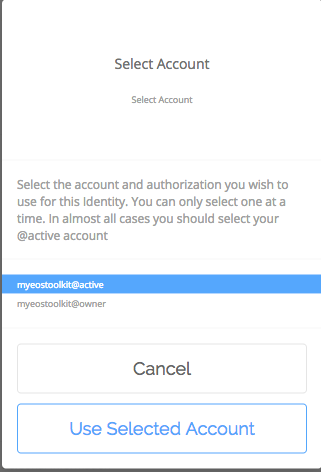 All finished!
We hope you have learnt something today or found the solution you have been looking for. GenerEOS & Blockgenic, strive to ensure that we bring you the most credible, up-to-date and user-friendly information within the EOS Network. If this guide was helpful, please consider voting for aus1genereos & blockgenicbp so that we can continue to keep adding value for the community.